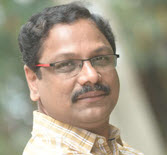 Mr. M.V Rami Reddy is a postgraduate in Social Work with more than 17 years of experience in the service sector. He is instrumental in designing various developmental initiatives at the Ramky Foundation. He has been associated with RF, actively involved in organization building since its inception in 2006. Besides project planning, he has instituted procedures to monitor & evaluate their programmatic implementation. He is currently works as Head-Operations and in charge of the overall functioning of the Organization.
He has been the chief architect of Pan-Indian livelihood interventions for women and rural communities that are currently implementing by the organization. During the last 10 years, he actively monitored various special projects in the field of CSR, employment generation, enterprise development and capacity building of marginalized communities.
He is an author of several books that describes his compassion and sensitivity towards contemporary global issues. To contribute more to the society he has started his own organisation in the memory of his father that supports marginalised people of rural areas.
---