Most of the girl students in rural areas are denied the opportunity to continue their further studies after the completion of secondary school education, due to various reasons such as unavailability of colleges in nearby areas, parents' financial affordability and other connected societal factors. These factors are forcing the girls to drop their education. Many of the girls in rural areas are not enjoying the fruitfulness of achieving their goals and dreams though having talent.As per the vision of our beloved Chairman – addressing the needs of such poor and talented students by providing all the required support in the form of a hostel, "Kanakamma Avva Asara" has been initiated in 2009 at Narasaraopet in Guntur district of Andhra Pradesh. The hostel provides boarding facility, food, health care, coaching related to studies, counseling support and other support required for their education development of the girls.In this financial year, 40 girls were accommodated in the hostel. Total of around 550 girl students were benefited from the hostel since its inception and some of them got employment opportunities in various companies /organizations through campus placements.
---

Ramky Foundation is helping the students of government schools in accessing the quality education by providing necessary inputs required for their education development. The activities under this program are distribution of note books, study..
---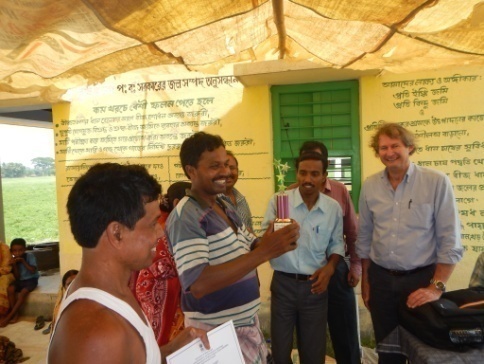 Ramky Foundation was awarded the most prestigious watershed development project in 2010 under a public-private partnership with the Rajiv Gandhi Mission for Integrated Watershed Management. Ramky Foundation is implementing this project in two districts of Madhya Pradesh, i.e. Sagar and Vidhisha in 12,000 hectares. These two projects are worth Rs.14 Crores and would last for six years benefiting over 50,000 people in the local community directly and indirectly.As part of the Watershed Development Programme we are working on the following areas broadly:
Soil and water conservation
Fodder development
Regeneration of vegetation
Fuel wood plantation
Income generating activities
Horticulture plantation
Community Development
---
The tribal population of India constitutes of 9% of total population distributed over 94,000 tribal villages. Tribals are dependent mainly on agriculture, forests and livestock. But the deteriorating forest resources have endangered the agriculture and livestock productivity due to shrinking of water resources and poor fuel & fodder supply. The small, marginal, fragmented, un-irrigated and mono crop agriculture holdings and low productive livestock population do not offer adequate opportunities for their livelihood. These factors, therefore, compel them for migration to nearby towns for subsistence, leaving their productive assets idle. Tribals residing in remote areas are still devoid of common infrastructure facilities of road and communication, health and education and safe drinking water, etc.Ramky Foundation, with its commitment for overall development of tribal population through both farm and non-farm activities, has been implementing the Integrated Tribal Development Project in the remote tribal villages of two states viz. Andhra Pradesh and West Bengal with the support of NABARD. The aim of the project is comprehensive tribal development through "Wadi" model (ref: "Wadi" in Gujarati means a 'small orchard' covering one or two acre of barren land), whose objective is rejuvenation of the environment in an integrated and comprehensive manner leading to improved quality of life of poor tribal families. The components covered under this program are;
Orchard development
Soil conservation
Water Resources Management
Women Development
Community health
Micro Enterprise for landless people
Processing and marketing
Human Resources Development
Other auxiliary components to dovetail with above activitiesAreas of Implementation:RF is implementing the Integrated Tribal Development Program (ITDP) with the support of NABARD's Tribal Development Fund (TDF) in two states viz. Andhra Pradesh and West Bengal. In Andhra Pradesh, the project is implementing in Atmakur, Kothapalli and Pamulapadu mandals of Kurnool district covering 1000 acres in 11 villages benefitting 1100households (including 100 landless families).In West Bengal, the project is implementing in Sankrail Block of Paschim Medinipur district covering 528 acres benefitting 850 households of 25 villages.
---

Ramky Foundation is implementing the "Environmental Effectiveness through Efficient Solid Waste Management" project at Pedakakani, Guntur district. The project was funded by NABARD under the Environmental Promotional Assistance scheme. A total amount of Rs.10 lakhs has been sanctioned by NABARD under the scheme and the Ramky Foundation is contributing another Rs.3 lakhs for the same.